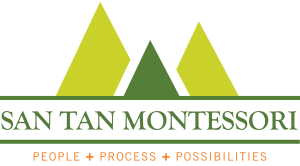 San Tan Montessori's Private Preschool is founded on the wisdom of Dr. Maria Montessori's philosophy and work with children. While incorporating Love and Logic's® nine essential skills, the Montessori peace table, and music, we further her vision of "Education for Peace."
Our peaceful and happy prepared environments are alive with Music and Movement through the support of our thriving Music Together™ program.
The materials facilitate learning in a hierarchy from simple to complex and concrete to abstract. Teachers and assistants in each classroom carefully and beautifully orchestrate student's optimal development through independent, small and large group learning opportunities.
From Simple to Complex and Concrete to Abstract
We are so happy with our decision to send our daughter to San Tan Montessori. We started her right at 18 months and she has just thrived. It is so much fun to watch her do things completely on her own and get so excited to see her friends. The teachers and staff are amazing and so knowledgeable about the Montessori way of doing things! I know my daughter is not only well taken care of and getting the best possible education, but she is loved as well. San Tan Montessori and San Tan Charter School are both incredible learning institutions that I can't speak highly enough about.

Read More
We joined the San Tan family in 2013 with 1 kiddo in mainstream Kindergarten and 1 in Montessori Preschool. It was so great having both kids at the same school, whereas in most other situation, we would have been driving to two different schools. We immediately felt like part of the family and knew STCS was the right choice for us. Our kiddos have completely different personalities and educational strengths and weaknesses. We have been able to work with the staff and teachers to ensure they are in the right programs to fit their needs. So far, we've experienced Montessori Preschool and Elementary, Gifted Elementary and Middle School, and Mainstream Elementary and Middle School.

Read More
9 ESSENTIAL SKILLS

OF LOVE AND LOGIC®
The Love and Logic® approach to classroom management is focused on building relationships; which includes teachers establishing clear expectations and communicating with respect while assisting students in developing personal responsibility and problem-solving skills.
Developing Positive
Teacher/Student
Relationships
Setting Limits
with Enforceable
Statements
Using Choices
to Prevent
Power Struggle
Preventative
Interventions
Guiding Students
to Own and Solve
Their Problems