The San Tan Montessori's Private Preschool Primary Program begins as early as 36 months. Teachers and assistants in each classroom carefully and beautifully orchestrate student's optimal achievement through independent, small and large group learning opportunities.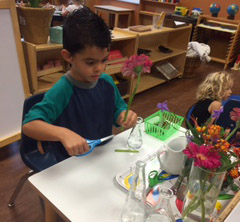 Dr. Maria Montessori refers to children through the age of five as having an "Absorbent Mind," through which the child literally absorbs knowledge from his environment. Therefore, everything in the Montessori classroom environment serves a purpose of laying a foundation for the child physically, intellectually, and emotionally.
Dr. Maria Montessori speaks of the Primary aged child as being in a sensitive period for making connection with the world. Building this connection between nature and things that are real in the world are at the foundation of the four areas of focus in a Montessori classroom.
Four Areas of Focus | Practical Life | Sensorial | Language Arts | Mathematics
Guided By | Multi-Age Classrooms + Prepared Environments + Freedom Within Limits
A Montessori Primary Day
The Primary classroom is divided into several areas in which the children move freely throughout the day especially during the Montessori work period.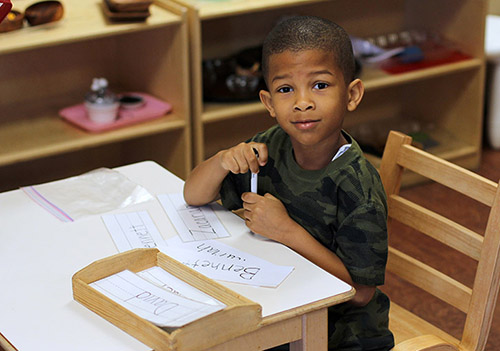 Practical Life
Practical Life activities make up the foundation of the program. They are intended to help the children adapt to their environment. They learn how to button, snap, and tie, to shine shoes, sweep, dust, and polish. Our students also learn the forms of good manners in our culture, such as shaking hands, closing doors quietly, and not interrupting. The activities within the classroom are designed in a sequence of steps through which the child comes to realize order and logic in activity. Attention, concentration, carefulness, and independence originate with this work.
Sensorial
The Sensorial material is not intended to give new impressions but to order, relate, classify, explore, and realize the sense impressions the child has had before coming to school. The equipment is designed to aid the senses in discriminating form, shape, size, color, sound, and touch. Each piece of material isolates a single quality, a single sense impression. The Sensorial materials serve as keys to all other areas of learning.
Language
Language is woven into all parts of the program. Students learn that words are made of sounds and learns that each sound has a symbol. Knowing the sound and symbol for each letter of the alphabet students begin to build words. Stories, poems, plays, and ordinary conversation are important in the environment. The aim is to increase the child's knowledge, organization of thought, and the ability to confidently express oneself.
Mathematics
Montessori observed human tendencies to abstract, investigate, calculate, measure, imagine, and create. When children are allowed to develop these tendencies through manipulating concrete materials while allowing for repetition and concentration they move easily on to abstraction and a love for mathematics. As a student is introduced to numbers, first the quantity and then the symbol is taught. Later the decimal system (units, tens, hundreds, thousands) is brought to the child along with basic arithmetic processes. Numbers, both the symbol and quantity are taught.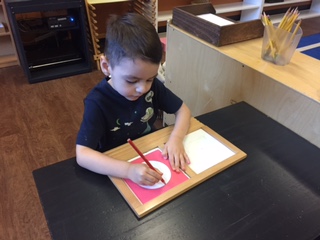 Music Together
The Music Together® Preschool program certified specialist provides children with a weekly opportunity to learn music in developmentally appropriate ways. Music Together Preschool supports cognitive, emotional, social, and physical development, giving parents and caregivers enjoyable and significant ways to relate to their children through music. Recordings, songbooks, and teaching materials are provided to each classroom.
Music Together™ materials allow children to "bring the music home." CD sets, music books, and supporting material are sent home for parent-child musical play, sharing the songs and activities learned in school.
Learn more about Music Together™ here.

We look forward to sharing our Primary Montessori Preschool experience with you. Schedule a Tour to learn more about our Montessori Private Preschool including the enrollment process, tuition, fees, and attendance options.