Families choose the Montessori experience for their children for a number of reasons. They can include an existing understanding of the Montessori philosophy and classroom materials, the idea that the child has more freedom of choice within their day, and a desire for a nurturing environment with an established community.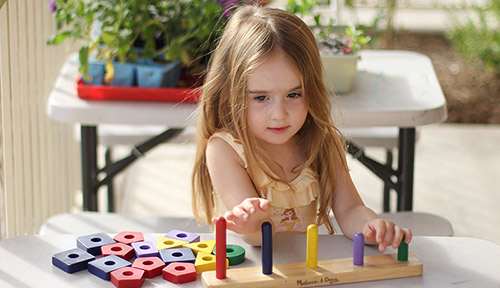 The overarching Montessori Philosophy is to "Follow the Child."
At San Tan Montessori Private Preschool, we follow the wisdom of Dr. Maria Montessori's work with children and further her vision of "Education for Peace" by meeting children where they are and allowing them to explore independently within carefully prepared learning environments that inspire each student to love learning and discovering. At San Tan, students experience the joy and wonder of learning and growing through hands on math, reading, writing, spelling, music, art, life skills, history, science, and social/emotional development activities and experiences.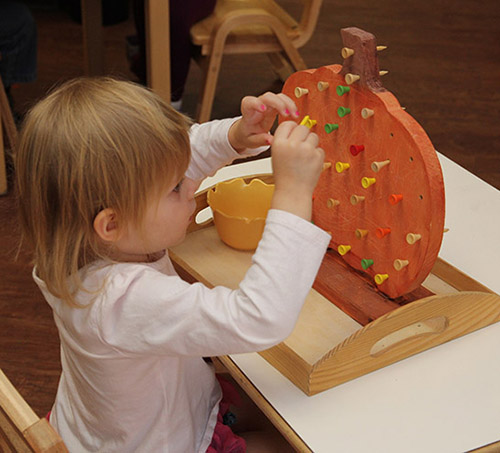 Montessori Classrooms Explore from Simple to Complex and Concrete to Abstract
The Montessori method and materials have a strong and clear beginning and end. Through observation and assessment, a teacher discovers where a child is at in their educational journey and is able to connect each student with the materials and activities that a student needs to create enduring knowledge and understanding.
Lessons are given individually and in small and large groups. Teachers present lessons and materials from beginning to end and then invite their students to work with the materials while the teacher observes their hands-on practice with the materials to determine if the student needs more support with that material or if the student is proficient with the material and ready for the next material and lesson.
This process helps students develop and experience "I did it myself" success.
Engaging & Encouraging
From the beginning children's personalities flourish in our carefully prepared, developmentally appropriate, and fun learning environments.
Language, Socialization & Partnership
Our children develop communication and socialization skills working within their multi-age classrooms. Teachers partner with parents to support each child's ongoing growth.
Independence & Concentration
Montessori is not a daycare, it is a learning environment where the child selects activities that spark curiosity, building concentration through preforming interesting work.
Our unique approach to classroom management, through Love & Logic's® nine essential skills enables our teachers and staff to support the school's guiding Montessori principle that we should never do something for a child that they can do for themselves.
9 ESSENTIAL SKILLS OF LOVE AND LOGIC®
The Love and Logic® approach to classroom management is focused on building relationships; which includes teachers establishing clear expectations and communicating with respect while assisting students in developing personal responsibility and problem-solving skills.
Neutralizing Arguing
Delayed Consequences
Empathy
Recovery Process
Developing Positive Teacher/Student Relationships
Setting Limits with Enforceable Statements
Using Choices to Prevent Power Struggle
Preventative Interventions
Guiding Students to Own and Solve Their Problems